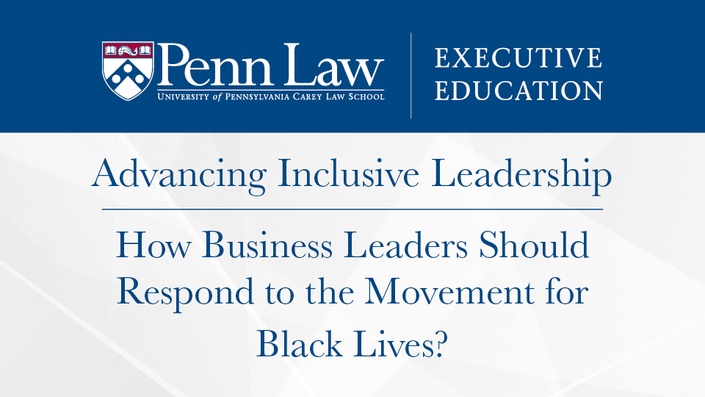 How Business Leaders Should Respond to the Movement for Black Lives?
1.0 ethics credits
Panel on How Business Leaders Should Respond to the Movement for Black Lives?
Co-founder and Former Executive Director, Sahara Group
Tonye Patrick Cole, an alumnus of University of Lagos and Harvard Business School, is the co-founder and former Group Executive Director of Sahara Group, an energy conglomerate with operations spanning the entire energy chain in Nigeria and neighboring West African countries to East Africa and beyond. The Group operates in 38 countries around the world with over 4,000 employees and an annual turnover of $11 billion. He was directly responsible for building the Group's global expansion and upholding her corporate governance principles, maintaining her status with global institutions like the World Economic Forum, where he was a key member of Pact Against Corruption Initiative (PACI), The United Nations, where he was a pioneer member of the advisory board of the Private Sector Advisory Group for the UNDP Sustainable Development Group Fund (SDG- F), The African Philanthropy Forum, ENACTUS Nigeria amongst others.
In addition to founding and running one of Nigeria's largest energy conglomerates, Cole also spearheaded and developed work carried out the Sahara Foundation globally. He continues working to inspire the youth of Africa through charities such as his NGO, Nehemiah Youth Empowerment initiative, which aims to influence change in Africa by bringing together young and emerging leaders to develop and implement practical strategies that will produce positive outcomes for millions and more recently, Behavioral Health Institute (BHI) that he set up for the study and management of behavioral health issues especially amongst the youths in Nigeria.
He works closely with a number of foundations in Nigeria including the Down Syndrome Foundation, Slum-2-School Foundation, The Compassionate Center and various orphanages. In September of 2018, Cole made a life-changing decision to pursue a career in politics. He formally resigned from all board and executive roles held in Sahara Group to contest for the gubernatorial seat in his home state of Rivers. In December 2019, New African named Cole amongst the top 100 most influential Africans alive. He is a motivational speaker, writer, teacher and mentor.
Head of Governance and Capacity Building, Agence Francaise de Developpement (French Agency for Development)
Hélène N'Garnim-Ganga currently serves as the Head of Governance and Capacity Building at the Agence Francaise de Developpement (French Agency for Development). A graduate of Harvard LawSchool and from the Sorbonne in France, N'Garnim-Ganga started her career as a lawyer and legal adviser in the private sector where she specialized in development projects, particularly in Africa. She then joined the French Agency for Development (AFD)as the legal director and later joined the AfDB to lead the operational and policy division. She was then appointed as the AfDB Resident Representative in Mali, where she has been active in supporting partnerships with the donor community and has been working to engage dialogue with the authorities about economic and financial policies. She has also led, on behalf of the AfDB, an evaluation process in Northern Mali, which was a part of the Malian peace agreement.
Executive Chairman, Safika Holdings, Tshipi é Ntle and Ntsimbintle Mining; Group Chair, Vodacom; Director, Volkswagen South Africa
Saki Macozoma is one of the most prominent business figures in South Africa. He is executive chairman of Safika Holdings, Tshipi é Ntle and Ntsimbintle Mining, group chair of Vodacom and a director of Volkswagen South Africa.
In addition to his business interests, Macozoma makes a substantial contribution to civil society. He has served as chairman of the University Council of the University of the Witwatersrand and the Council for Higher Education and is currently a member of the Board of Governors of Rhodes University. He is the chairman of the KwaZulu–Natal Philharmonic Orchestra and has served as president of Business Leadership South Africa and as a member of the G20 Business Council.
In 2012, for his fight against state oppression during the apartheid era, the University of South African (UNISA) presented Macozoma with the Calabash Award, the university's highest honor. His fight against apartheid began in the mid-1990s when he worked as an organizer for the South African Students Movement. When he was 19, he was arrested for leading a student protest and sentenced to five years' imprisonment as a political prisoner on Robben Island. It was here that he met South Africa's future president, Nelson Mandela, who mentored him.
Following his release from prison in 1982, Macozoma played a prominent role in the formation of a number of anti-apartheid organizations, including the United Democratic Front and the Mass Democratic Movement. In 1994, he became an African National Congress (ANC) member of Parliament and was elected chairperson of the Parliamentary Portfolio Committee on Communications. In 1995, he was elected to the National Working Committee of the African National Congress.
In April 1996, Macozoma resigned from Parliament to become the first black managing director of Transnet, the state-owned company that runs South Africa's ports, railways and South African Airways. In 1998, he was appointed to the board of Standard Bank and later became its deputy chairman. He has also served as deputy chairman of the prominent South African financial institutions STANLIB and Liberty Holdings.
Macozoma studied political science, economics, and journalism at UNISA and the University of Boston.
Vice-Chairperson, United Nations Committee on the Elimination of Racial Discrimination; Distinguished Scholar-in-Residence, Leitner Center on International Law and Justice, Fordham University Law School
Gay J. McDougall is an American lawyer who has spent her career addressing international human rights and racial discrimination. She is currently a Distinguished Scholar-in-Residence at the Leitner Center on International Law and Justice of Fordham University Law School, and a Vice-Chairperson of the Committee on the Elimination of Racial Discrimination (CERD Committee), one of the UnitedNations (UN) human rights treaty bodies that oversees the International Convention on the Elimination of All Forms of Racial Discrimination. She was Executive Director of Global Rights, Partners for Justice (from September 1994 to 2006). In August 2005, she was named the first United Nations Independent Expert on Minority Issues, serving until 2011.
In 1998, she was first elected to serve as an independent expert on the United Nations treaty body that oversees the International Convention on the Elimination of All Forms of Racial Discrimination (CERD). She was the first American to be elected to the body of 18 international experts who oversee compliance by governments worldwide with the obligations established under the treaty. She served a four-year term, from 1998 to 2001. She was elected to another four-year term on the CERD Committee in June 2015, and currently serves on the Committee for a term that began on January 20, 2016 and is scheduled to end on January 19, 2020. At its 1996 session, the United Nations Commission on Human Rights elected her to serve a four-year term as a member (alternate) of the UN Sub-Commission on Prevention of Discrimination and Protection of Minorities of the Human Rights commission. She also served as Special Rapporteur on the issue of systematic rape, sexual slavery, and slavery-like practices in armed conflict, in which capacity she presented a study to the United Nations Sub-Commission on Human Rights that called for international legal standards for prosecuting acts of systematic rape and sexual slavery committed during armed conflict. As Special Rapporteur she also toured Sierra Leone with the UN High Commissioner for Human Rights to assess the devastating impact the civil war had on civilian populations.
Prior to joining Global Rights, McDougall served as one of five international members of South Africa's 16-member Independent Electoral Commission which successfully organized and administered that country's first non-racial elections. During southern Africa's apartheid era, she was director of the Southern African Project of the Lawyers' Committee for Civil Rights Under Law from 1980 until early 1994 and gave direct assistance to the defense of thousands of political prisoners in South Africa and Namibia by financing the defense and collaborating with attorneys.
In 1989, McDougall founded the Commission on Independence for Namibia, a bipartisan group of 31 distinguished Americans who monitored in detail the year-long process to independence mandated by the United Nations, the Commission intervened to force modifications in critical legislation, such as the voter registration and election laws, which as drafted, threatened the fairness of the election process.
McDougall earned her B.A. in Social Science from Bennington College in Bennington, Vermont, her J.D.at Yale Law School, and her LL.M. in public international law at the London School of Economics and Politics. McDougall was awarded a MacArthur Foundation Fellowship in 1999 for her "innovative and highly effective" work on behalf of international human rights. She has Honorary Doctor of Lawdegrees from Georgetown University Law Center, the University of Witwatersrand (South Africa), the School of Law of the City University of New York, Agnes Scott College and the School of Advanced Study, University of London. McDougall received a Candace Award from the National Coalition of 100 Black Women in 1990.
Research Scientist, IBM Research Africa, Nairobi; President and Co-Founder, Global Minimum Inc.
David Moinina Sengeh is a Research Scientist at IBM Research Africa, Nairobi. His research is at the intersection of applied analytics/machine learning and healthcare with a focus on Africa. He was born and raised in Sierra Leone, received his Ph.D. at the MIT Media Lab, where his research in the Biomechatronics Group focused on the design of comfortable prosthetic sockets and wearable interfaces. This work was at the intersection of medical imaging, material science, human anatomy, computer-aided design and manufacturing.
Sengeh is on the Forbes 30 Under 30 in Technology for 2013, a 2014 TED Fellow, on the Wired Smart List 2013, winner of the Lemelson-MIT National Collegiate Student Prize, and won many other awards. He has been invited to give talks at institutions like the United Nations, corporate and academic organizations on topics related to education, youth innovation, prosthetics design and more.
He is the President and co-founder of the international NGO Global Minimum Inc. (GMin). Currently, GMin's main project is Innovate Challenges; the first-ever competition created to foster a culture of innovation among high-school students in Sierra Leone, Kenya and South Africa. Innovate Challenges is a mentorship program and set of workshops where youth can get help in transforming their ideas into tangible solutions. GMin was one of three winners out of 1000 nominees for the Rockefeller Foundation Next Century Innovators Awards in 2013. Previously, GMin led the distribution of over 16,000 mosquito nets to cover over 28,000 people in Sahn Malen chiefdom in Sierra Leone.
Sengeh attended the Red Cross Nordic United World College in Norway before earning his bachelor's degree in biomedical engineering at Harvard College. At Harvard, his undergraduate work focused on making a stable, aerosolized BCG vaccine against Tuberculosis for delivery to the lower lungs. There, he was a co-founder of one of Popular Mechanics' Innovators of the Year 2009, Lebone Solutions Inc. – a company that won $200,000 from the World Bank to produce microbial fuel cells in Africa.
He is the owner and lead designer for the clothing design company Nyali Clothing, employing over 10 employees. Sengeh is a lyricist and rapper making music that draws youth towards creativity. He has traveled and worked in over 15 countries globally on various projects related to education, health care delivery, and medical device design. He is interested in the idea of using technology and innovation to drive national development.
Your Instructor
Course Curriculum
How Business Leaders Should Respond to the Movement for Black Lives?
Available in days
days after you enroll
Frequently Asked Questions
When does the course start and finish?
The course starts now and never ends! It is a completely self-paced online course - you decide when you start and when you finish.
How long do I have access to the course?
How does lifetime access sound? After enrolling, you have unlimited access to this course for as long as you like - across any and all devices you own.
What if I am unhappy with the course?
We would never want you to be unhappy! If you are unsatisfied with your purchase, contact us in the first 30 days and we will give you a full refund.